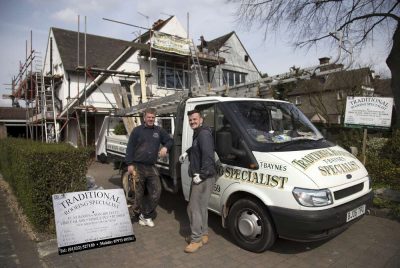 At Traditional Roofing Specialist we promise you that our work will meet all expectations. This is a promise we can make because our experience has taught us to understand what our customers need.
Many of our customers come to us after hearing about us from a friend or family member. We have a gallery that proves that we can take on any form of roofing job but sometimes customer feedback offers that little but more.
Our testimonials prove that we have the quality and ability to meet the needs of every customer. Why not have a read and see exactly why we at Traditional Roofing Specialist are highly thought of?
Please fill the form below to leave your own review:
5 out of 5 stars (based on 9 reviews)
Thank you for a great job. Your builders were a pleasure to have around and cleared up every scrap of mess, including some of mine (I'm grateful to say).
I've had several enquires as to who did the work –I'll only take a 10% cut of any forthcoming jobs!
Thank you once again.
Cured my leaky chimney. Efficient , punctual and tidy. Work carried out in good time.
Cured my leaky chimney. Efficient , punctual and tidy. Work carried out in good time.
I have used this company on two occasions and cannot fault their work, they remained professional and polite at all times. I highly recommend this company..
I'm not one for writing reviews but I thought I should as I had a I complete roof overhaul approximately two weeks before Storm Eunice . After the storm had gone I checked my roof and not a single tile had moved, slipped or fallen off my roof. I would recommend this company. The team of worker were also very considerate and polite. I also found the cost reasonable and competitive.
Very pleased with the work done to my roof just before Christmas. Great service and no hidden extras. Would highly recommend this company.
Thanks to Tony and co for excellent work replacing 3 previously leaking skylights and repairs to roof. Highly professional service and would definitely recommend.
Really pleased with the work done overhauling our roof, chimney and fascias.
The team were friendly and happy to talk through any questions. They were also conscious of us working from home during the work.
Would definitely recommend and would use again.
First class work very considerate always cleaning up after them. Nothing was too much trouble. The men were an extremely happy gang working well together.
Our house was built in 1908 it is a slate roof. With very decorative copings etc. This is the first time it has been reroofed.. We wanted to keep all the original features. Tony and his gang of very pleasant men did just that. Well done boys.. highly recommend.
If you require advice about your roof or if you would like to obtain a free, no-obligation quote give Traditional Roofing Specialist a call on 01322 527 159 or 07973 695 302, or email us at .