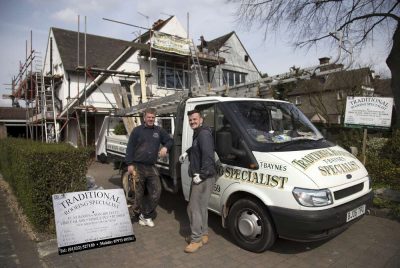 At Traditional Roofing Specialist we promise you that our work will meet all expectations. This is a promise we can make because our experience has taught us to understand what our customers need.
Many of our customers come to us after hearing about us from a friend or family member. We have a gallery that proves that we can take on any form of roofing job but sometimes customer feedback offers that little but more.
Our testimonials prove that we have the quality and ability to meet the needs of every customer. Why not have a read and see exactly why we at Traditional Roofing Specialist are highly thought of?
Please fill the form below to leave your own review:

★★★★★
"
I am most grateful for your kind attention to my somewhat fastidious insulation requirements and for you accommodating the attendance of the on site electrician. Please accept my thanks for a job well done.
"
★★★★★
"
I would like you to know how pleased both my family and I are with our new tiled roof. The roof looks really good especially with the finishing touches with 'black cement'. It has been admired by many people in the street and what makes it look even better now, is that the whole exterior of the house looks as though it has been decorated and the whole of the property looks 'newly built'. I would also like to mention the scaffolding firm who did what I asked for without any damage to my property in the process of erection and dismantling. Also your team of men who worked with you on the roof – they were easy to get on with, very prompt, early every morning and got on with the job – well done lads! I would readily recommend your firm for anyone wanting a perfect job done. And a final thanks to you, Mr Baynes, for all your help… nothing was too much trouble.
"
★★★★★
"
Your men worked quietly and respectfully and were courteous too. I am satisfied with the work as far as I can be – it has yet to stand the test of bad weather, but I have every confidence that it will.
"
★★★★★
"
Many thanks for your efforts on our flat roof. You will be pleased to hear that (so far) the rain has been kept out. Well done!
"
★★★★★
"
I am very pleased with the standard of your work and that everything was left so clean and tidy. As you requested I have kept an eye out for further leakage and can report that to date there are no leaks apparent!
"
★★★★★
"
All the retiling/re-roofing works were carried out in a very professional manner by a competent site team. All the details contained in the Clients detailed specification were adhered to and any minor queries were attended to. All the retiling work was completed to time, plus agreed cost, and the end result has been given glowing comments from my friends and close neighbours. An excellent job. Very good communication was adhered to for the duration of the works, and your site team paid total respect to my adjacent neighbours. Upon completion of the works, all rubbish was cleared away and all areas left clean and tidy. As a construction professional, I now know that I made the right choice after a long search, in appointing your company and I would have no hesitation to recommend you to future clients.
"
If you require advice about your roof or if you would like to obtain a free, no-obligation quote give Traditional Roofing Specialist a call on 01322 527 159 or 07973 695 302, or email us at .